By Sharon Merkel Prudhomme ~
Ugh! Commercials on the tube throw a non-stop barrage of gift suggestions & ideas. Brain washing the general public of all ages begins each year before the pumpkins are carved in October! Bombarded by the idea that one MUST spend their hard-earned dollars on plastic nonsense for kids, expensive meaningless gifts that most will exchange…or wish they could. Many feel gift cards are the easy way to go but miss the gist of true giving…from the heart. The whole idea is for a meaningful, personal gift that some thought went into when picked or made JUST for that special someone.  IF….IF you truly know someone, then you would know their likes and dislikes, hobbies, collections, outlook on life, loves…what gets them excited and smiling.
Getting tired of running around from store to store, getting pushed, bumped, standing in lines and traffic jams should think about those on your list and then….hit up your local hardware store! Think and shop local, you'll be surprised to find something for each and every one on your list.
Bain's Point Hardware is a fine example of the perfect one stop shop with helpful friendly staff ready to assist. Perusing down the isles is half the fun with the adventure of the hunt while finding unexpected treasures. Tons of cool stocking stuffers glimmer from rack to rack.
How about a new nautical ceiling fan pull? Lighthouse, crabs, surf boards, shells and of course more traditional pulls. Have you seen the new keys available? How about a nifty designer house key with favorite characters, colors, team logo, military logo and other neat designs. Is there someone who "lights up your life"? How about an old-fashioned oil lamp with a gift tag that reads, "You are the light of my life" or "You light up my life"? Add a second package with colored lamp oil! My tradition in giving family gifts was to compose a little riddle which could hint at what lay under all the paper and ribbons. Everyone would try to figure out the riddle by the clues. I found it more fun than blindly ripping away at boxes and bags. I spied boxes of old-fashioned salt water taffy as well as the most extensive array of quality Pt. Pleasant apparel too.
Assorted ball caps cool T-Shirts and sweatshirts boasting this beloved little shore town name are perfect for all ages. Just the "hardware store smells" of bird seed, fertilizers, etc. along with the old wooden floors is enough to open the floodgates of wonderful childhood memories of hanging with my pop. The top quality ever popular YETI coolers, coffee mugs and matching caps are found deep in the back of the store.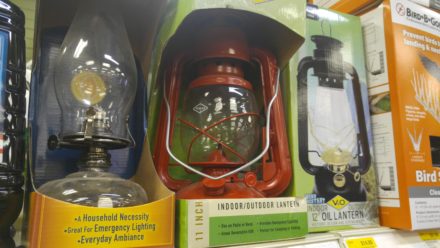 Visit Bain's Point Hardware Store if you are looking for gifts that are always the right fit! You'll find a  Bain's Hardware store in Sea Bright as well as a location on 3rd Ave. Spring Lake which was featured here December 2017.  Services include: Paint Supplies, Screen repair, Glass cutting, Beach supplies, Plumbing, Electrical, Yard & Garden needs as well as a plethora of cool & unique gift ideas! As Frank Bain says, "If we don't have it, you don't need it."                                       
Bain's Pt. Pleasant Hardware, Pt. Pleasant, NJ 08742  (732)892-5200  https://bainshardwarestores.com/
Our visit to The Hardware Store of Asbury Park offered great ideas for the ultimate, appreciated gifts. Remember, think of what your recipient likes to do….hobbies, outdoor type, avid bird enthusiast, crafter, artist, handyman/woman? The one stop shop holding all your gift needs is right under your nose!
No more hassles with parking lots, malls, endless walking and searching just by entering this shop. Found off to the side opposite the train station parking lot at 428 Main St. sits this friendly shop. The Vaccaro family (Sam, Sam & Bridget) are happy and ready with a smile and good conversation. Ready to help you find the perfect gift for that special someone. We were lucky to meet the friendly family resident, Mia, a cute lil' Boston Terrier.
Wouldn't the handyman/woman in your life love a new all leather tool belt or pouch? Slide a few keys from family key rings and sneak them off for designer and fun colorful duplicates. Make each family member a new cool house key made just for them. How about a new outdoor thermometer to check the temps before heading out? A fresh new door mat welcomes guests.
Fun garden tools and gloves as well as assorted remedies for garden pests. What better gift than a new bird feeder along with a bag of seed for all ages. Keep in mind the shut-ins and elderly. A bird or squirrel feeder placed just outside their sitting area window will bring hours of enjoyment. For young ones, add a bird book and encourage them to jot down where and when they spotted each winged friend. Hot tip: there is a Summer Clearance on small yard decor flags – $7! Grab a new one for next year. A large display of candles offers to bring a warm glow and fill the home with fragrances. Stop in and say "Sharon from Jersey Shore Scene sent you"! Ha! It won't get you a discount but you sure will enjoy the chat and selections. Simplify! Shop your local hardware stores!
The Hardware Store of Asbury Park  428 Main St. Asbury Park NJ 07712     (848)217-0290 www.aphardwarestore.com                                                                                                                               
Our 3rd Hardware one stop shop recommendation is the jam-packed Stewart's Hardware in Bradley Beach. For over 34 years Sue and Craig Stewart have been providing homeowners and contractors with tools and advice. Originally on Main Street, it is currently on Brinley Ave. I knew this was going to be a place we'd love….dog friendly. The owners' dog, a beautiful Vizsla, Finn, was hanging out behind the counter overseeing operations. This warm & friendly small town feel can't be found at the big box stores-something I hope never goes away.
Stewart's Hardware is overflowing with fantastic gifts for all on your list. I love useful gifts, ones that will actually be used time and again for everyday tasks and projects. Have a car buff in the house? Check out the array of nifty items for the interior & exterior-scents, cleaners, buffers, lock de-icers, floor mats, travel mugs, decorative magnets and more. I'll be updating my bird feeding stations with a few new suet cages and Gold Finch tube feeders. For those with aging parents or grandparents, remember, they have enough "dust collectors" AKA "chotzkys" so think of useful.
Fireplace kindling and starters, long fireplace matches or grill lighters are always appreciated. Pair them up with a favorite wine, cordial or hot cocoa mix for a fireside cozy suggestion. Love the nostalgic galvanized pails, watering cans and tubs available. Whether used for décor or the actual designed function, these are always a cool idea. Stuff them with garden gloves, small tools, rose or flower fertilizer, seeds, etc. making the pail or can the "gift box"! All you need is a bow on the handle. For someone who loves to entertain-grab a classic galvanized tub and fill with cork screw, bottles of wine, cool tea towels, pack of cocktail napkins, swizzle sticks, etc. Make up a gift basket unique to the individual. Imagination is key to make a hit!
I was happy to find little Equality Flags in addition to the usual garden flags seen. Shopping in a good local hardware store is like stepping into a candy shop. So many choices and fun options. Think….get creative and have a fun time perusing the shelves for family and friends this year. All year round gifts for Hanukkah, Christmas, birthdays, etc. can be found easily with stop at your nearby local hardware store. Enjoy! Happy Holidays to all!
Stewart's Hardware 703 Brinley Ave, Bradley Beach NJ 07720 (732)776-9233                                                                                   www.stewartshardwarebb.com