The Shrewsbury Historical Society and Research Center, 419 Sycamore Ave., is featuring a curated collection of wedding fashions from the Victorian and Edwardian eras, to the early 20th century, to current fashions.
The exhibit, which is in lieu of the annual Historical Society's fundraiser, will be open from 10 a.m.-1 p.m. Thursdays and Saturdays, and by appointment by emailing:  ShrewsburyHistoricalSociety@gmail.com.
Visitors are asked to kindly follow COVID-19 protocols. Contributions are appreciated. Venmo accepted. Shrewsbury Historical Society@ ShrewsburyHistorical-Society
This journey of wedding fashions, a collection of gowns, donated by residents or on loan to the Historical Society, showcases a progression of styles. You will find delicate hand-embroidered tulle, intricate patterns of hand-tatted lace; then machine-made netting and lace, and ready-to-wear gowns. The gowns reflect influences from World War I, World War II, the Jazz Age, and beyond.
The styles progress through various eras, from the rigid bone-corseted bodices of the early dresses to the progressively relaxed fit of modern dresses. The lines of fashion are often blurred. History tends to repeat itself; you will find historical references in the design, such as the high banded collar from Victorian times, or the Empire style, made famous by Josephine Bonaparte, the 18th-century Empress of France, according to Robin Blair, exhibit curator.
"As historic textiles, wedding dresses have represented hope, ceremony, and ritual. The Shrewsbury Historical Society's new exhibition 'Wedding Dresses' is a luminous and powerful look at these creations and the women who wore them," said Bernadette Rogoff, Director of Collections, Monmouth County Historical Association.
She continued: "The installation itself is creative, exciting, and engaging, while the research and labeling allow visitors a fascinating in-depth look at the past owners of many of the garments. The Historical Society should be commended for the excellence of this exhibition."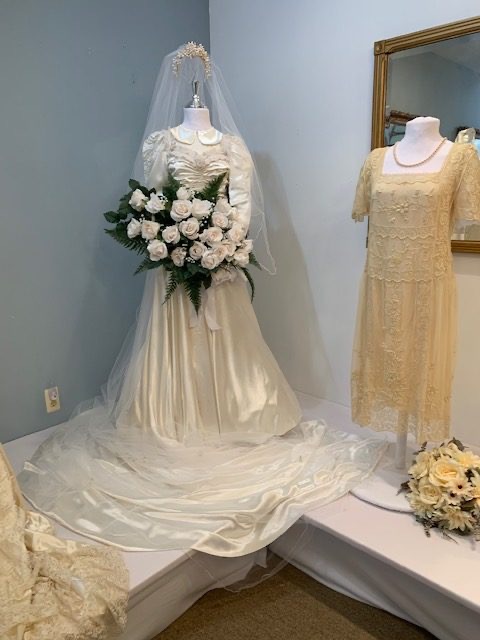 "These wedding dresses have all been tastefully restored, each one unique with amazing details like beads and buttons and lace. The exhibit hall is transformed by lights and mirrors which creates a pristine space to view and appreciate the dresses and other wedding-related items such as photos and wedding party outfits," said retired Red Bank Librarian Elizabeth McDermott.
She added: "Brides, dress designers, wedding photographers, as well as historians will enjoy seeing these one-of-a-kind gowns and veils. This exhibit captures the creativity and workmanship that comes together to make a bride's dress the height of a wedding day."
After a recent preview of the collection, Ellen Jackson, Docent, The Crawford House, mused: "You might just want to get married all over again."