By Kacey Roy ~
Whoever said you shouldn't wear white after Labor Day has never seen a winter white suit. Whoever said not to mix stripes and polka dot has never opened a J Crew catalogue. Same goes for your living room! Ok, so maybe you don't want to go crazy (or maybe you do). Consider how fun it is to mix your favorite things in one space. You should probably follow a few guideline here:
Start slow. Pick a color scheme and stick to it throughout your design. First image plays it somewhat safe with blues and whites done it two different patterns (one on chair, one on curtains) then stripe pattern on pillow. This compliments the white walls and natural woods on furniture accents. Then a subtle pattern is added in the rug that does not compete with fabric choices. Easy Peezy, right?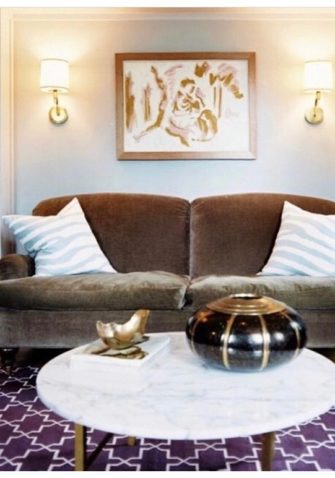 Another design misconception is that you can't mix different styles. Why? If you like the bohemian rug, the modern coffee table, and traditional sconces, then go for it. I say, trust your gut. Your instincts are probably right and you are the one who is living in the space, so make sure it makes you happy and feel comfortable. We often have customers come in and say they don't know what they like, but that's not true. You are drawn to what is appealing to you, even if you purchase an entire floor design. You may not have put it all together, but you loved it enough to buy it or attempt to recreate it.
The last image may just be my favorite. Look at how all those fun patterns blend another!!! Aside from that pink, the colors are subtle. Even though there are four bold patterns in one space, it works. I love blending of textures from the linen throw and pillow, to the weave of basket!
The last thing to consider is the scale of the you are mixing. I find a good rule of thumb is to follow three simple steps to get started when mixing patterns and colors in a space. First, chose your main pattern; something you love that sets the tone of the room. For example, chose a floral if you want the room to feel romantic or whimsical, maybe a stripe for a more beachy feel. Make sure this main fabric or pattern has the color(s) you want to focus on in the space. The second pattern is where you go bold! Use this on pillow, curtain, throws picture frames, etc. Try a bold geometric print to get your feet wet. The last step would be to pick your third pattern that is just for fun but somehow compliments the main fabric. For example, if you chose a floral as your main print and it has a lot of pinks in it, find a stripe pattern with that same print and add it in remaining accessories! Before you know it you will feel like a master designer who has the confidence to tackle any space big or small!