By JF Grodeska ~
It was April 15, 1908.  Private Lander Radford was on duty in building No. 32 at Fort Hancock, Sandy Hook, NJ.  It had been a normal day, full of the typical duties of a U.S. Army Private. That changed when a group of men barged through the door carrying large wooden boxes with a ghastly cargo of skeletal remains.  Radford regained his composure to ask the men what had happened. They had been working near Horseshoe Cove, grading the new railroad bed when the came upon an obstruction. As they dug around it, the realized that it was a vault made of bricks and contained 14 bodies. 
The remains that the workmen discovered on that sunny April day, belonged to Lt. Hamilton Douglas Haliburton and 13 crew members of the 50-gun, Portland Class British Warship, HMS Assistance.  Private Radford would later report: "We were told that 14 Bodies were found in a forgotten burial, so we were ordered to make 14 wooden boxes to hold each body. But the trouble was that all the bones were mixed together in the boxes brought to the storehouse. We couldn't tell who was who, so when we made the boxes, we did our best to try and figure out if we had enough bones for each body, and then put them into each box."
The remains were reinterred at Cypress Hills National Cemetery in Brooklyn, New York in 1909, and a large, granite monument was erected over their grave in 1939.
December 31, 1783, The American Revolutionary War was essentially over.  The HMS Assistance lay at anchor in Horseshoe Cove at the British stronghold of Sandy Hook.  It was cold and the sky was a deep grey with the smell of impending weather in the air. Earlier that day, a Midshipman and 6 crew members set off in a longboat to retrieve water from the nearby transport ship; HMS Bridgewater.  The crewmen overpowered the Midshipman and pulled for the town of Portland Poynte.
Captain William Bentinck had a problem. The day prior, 5 seamen jumped ship and deserted. It was becoming an epidemic. Given that the Assistance had a compliment of 350, he could not afford desertions.  His reputation and career were at stake. After some deliberation, he summoned, 20-year-old, Lieutenant Hamilton Douglas Halyburton and gave him orders to select a contingent of officers and chase down the deserters. Halyburton, a 7-year Naval veteran and member of the peerage, was a rising star in the Royal Navy.  Bold, dynamic and eager to make a name and career for himself, he was the perfect choice to lead the mission.
Hamilton chose thirteen men, 12 officers and a seaman, for the duty.  They boarded the ship's barge as the grey sky darkened and a breeze began to stir. They set off to find the latest group of deserters.
Later that night, the breeze blew into a full-on gale with a heavy snowfall.  Captain Bentinick began to be concerned as the weather continually worsened. He hoped that Halyburton and his men had made it to shore before the blizzard began.  
The blizzard and gale force winds continued all the next day.  On January 2, 1784, the barge and frozen bodies of Hamilton Douglas Halyburton and his 13 men (James Champion Lieutenant of Marines, Alexander Johnstone, George Paddy, Robert Haywood, Midshipmen, Charles Gascoigne, William Tomlinson, Andrew Hamilton, William Spry, William Scott, John McChain, David Reddie, Robert Wood and George Towers common seaman) were discovered grounded on a mud bar, stuck fast.   Had they landed 150 yards in either direction there is a good chance they would have survived, as the barge would have been able to return to the ship.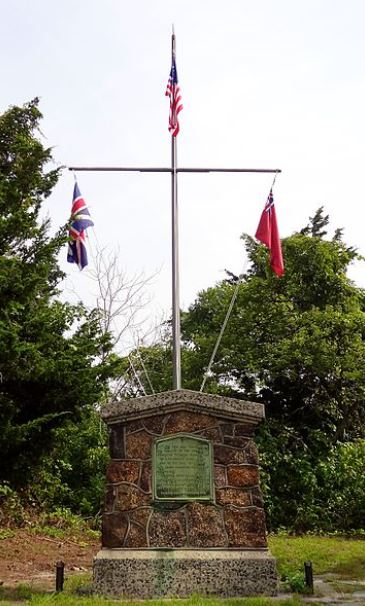 Katherine Hamilton, the Countess Dowager of Morton erected a marble monument over the grave of her son and his men at Sandy Hook.  
In or about 1808, during the Napoleonic Wars, an armed French Corsair landed on Sandy Hook in search of water. Some of the crewmen took the time to destroy Halyburton's monument.
In 1937, Civilian Conservation Corps erected a new memorial, made of local peanut stone, over the site of the grave near Horseshoe Cove.  A bronze plaque relates the story of the HMS Assistance tragedy.
The Assistance ended her naval career wrecked on a sand bar off Dunkirk in 1802.
https://nyharborparks.org/visit-parks/#tab-id-23