Lunch Break, the comprehensive basic needs and social service center turned 40 on March 14, 2023 — a far cry from the church food pantry established by Mrs. Norma Todd and local leaders to alleviate hunger. Mrs. Todd's call to action for helping the hungry in the community resulted in more than just a legacy of nourishment for those in need.
Forty years later hunger remains an even greater problem. Thanks to concerned community members, the foundation Mrs. Todd built for her beloved community has thrived and flourished, despite challenging global, national and local events. As long as hunger and poverty exist, so will Lunch Break.
Lunch Break at 121 Drs James Parker Blvd. in Red Bank, NJ is committed to caring for the well-being of community members by providing basic necessities, including food security, as well as employment training, housing solutions, resume coaching, job placement resources, college prep guidance and vocational workshops for high school juniors and seniors, and financial counseling free of charge to hundreds of families and individuals living at or below the poverty line in Monmouth County and beyond.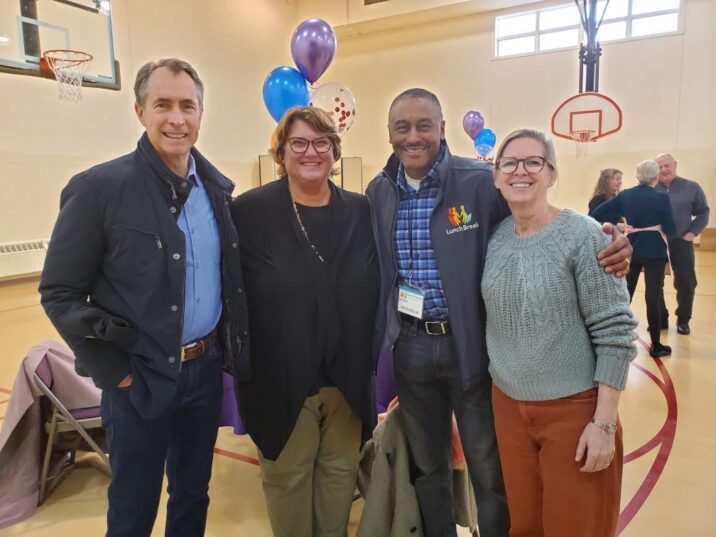 Governed by a leadership team, including the Board of Trustees and Executive Director Gwendolyn Love, the organization relies on its network of more than 2,000 volunteers, which includes corporate and business partnerships.
Breaking the Cycle of Poverty in our Community
In New Jersey alone, 657,320 people, including 175,830 children, are food insecure, according to a 2022 Feeding America and Hunger Free New Jersey report. That means 1 in 14 individuals and 1 in 11 children live in homes without consistent access to adequate food.
Across Monmouth County, the rate of hunger among seniors has more than doubled since 2001, according to the National Council on Aging, a rate that is expected to increase as Baby Boomers age. Nearly 14 percent of New Jersey's 1.5 million senior citizens face hunger each year – translating to about 230,000 older residents who don't have enough food to eat. These seniors regularly face the choice of buying food, paying the electric bill or paying for medications, according to Hunger Free NJ.
In 2022, Lunch Break saw an unprecedented demand for groceries, with more than 24,000 food pickups. Same holds true for meals, with more than 10,000 meals delivered to the homebound and 12,000 to the Pan American motel in addition to the 96,000-plus served. Continental breakfast and lunch are offered six days a week and Community Dinner on Friday.
In response to community demand for services, the organization completed a $12 million Capital Campaign in 2022 to expand the current facility. The building, under construction through late fall 2023, will incorporate additional space for on-site services, including the Life Skills Center, warehouse storage, administration, and donation accessibility.
Lunch Break's 40th celebration of service is a culmination of the efforts begun by Mrs. Todd, who was struck by the problem of hunger in her own backyard. In January 1983, Mrs. Todd and 34 others gathered at the Friends Meeting House in Shrewsbury to discuss the issue of hunger in Monmouth County. They committed themselves to helping community members who found it difficult to provide the basics for their families by raising funds and recruiting volunteers. That commitment flourished into a "community center" at Drs. James Parker Boulevard  — a place filled with hope that clients and volunteers call home.
The architects of this blossoming self-sufficiency program strived to establish a refuge for those distressed by history's watershed moments that uprooted entire communities: severe economic recessions, natural disasters such as hurricanes, viral pandemics. Lunch Break's service has seen its fair share of all three extreme examples in the past 13 years alone.
The mission continues under the leadership of the Board of Trustees and Executive Director Gwendolyn Love, who joined Lunch Break in 2008.
"What Mrs. Todd and the early volunteers created out of love for their neighbors is actually a great love story and I'm so excited there is interest for others to know about those early days. There was a movement, a call to action, to meet a need in the community to feed the hungry," said Mrs. Love. "And from that labor of love developed an awareness of other challenges to be met."
She continued: "Lunch Break stepped up to provide help."
Lunch Break took further shape in March 1983, when Reverend Terence Rosheuvel provided the basement of St. Thomas Episcopal Church in Red Bank to serve hot lunches. For a short time in 1985, Lunch Break moved its operations to the Masonic Temple on West Bergen Place. The following year, through combined efforts of many contributors and donors, Lunch Break opened the doors to its permanent home in Red Bank.
Integral to establishing Lunch Break's spiritual framework and selfless philosophies, Rosheuvel was honored with the Norma Todd Service Award, presented to him by Mrs. Todd's daughter Cynthia and granddaughter Rikki, at the organization's 2018 Fall Gala.
During Lunch Break's formative years, Rosheuvel wrote in his 1988 book "Loaves and Fishes: the Lunch Break Story" :
"Lunch Break — and indeed anything that genuinely brings people together – has a value far greater than its size or its almost accidental history might suggest. It represents the hope that we can rehumanize our society and begin to re-establish the social values that have all but disappeared."
Mrs. Todd passed her legacy of love and determination to the many who continue in her journey.
Thanks to the passion and dedication of volunteers, Board members, staff, and generous community members, Lunch Break continues to build on Norma Todd's dream. Its vision is to lead as a comprehensive food, nutrition, social service and life skills resource for community members.
Mrs. Love knows that vision is clearly in sight: "By being one-on-one with people – that's when change occurs and that's Lunch Break's greatest strength."
Lunch Break is a 501(c)3 organization located in Red Bank, NJ, providing food, clothing, housing solutions, life skills, and fellowship to residents of greater Monmouth County. All Lunch Break services are free. Follow us on Facebook, Instagram, Twitter, LinkedIn and YouTube.