Content provided by our partner, Jersey Shore Arts Center ~
Things have been really busy here behind the scenes at The Jersey Shore Arts Center! In addition to rescheduling and planning future events, we've been concentrating on writing grants and making our historic home beautiful! We are super proud of the Main Lobby painting project. Through our fundraising and private donations, we were able to cover the entire cost. Thanks go out to Charles Messick, Director of  IUPAT and Robert Lane, who was instrumental in coordinating efforts of the Local Painters Union (711) to corral apprentices to get the job done lead by Michael Rocha. We also appreciate all the volunteers from the local Kiwanis groups throughout. Over 30 people showed up! Now our Main Lobby shines lighter and brighter. The stairs were repaired, cracks in the walls were filled and the paint job ensures that visual art displays will look much better in this newly lighter space.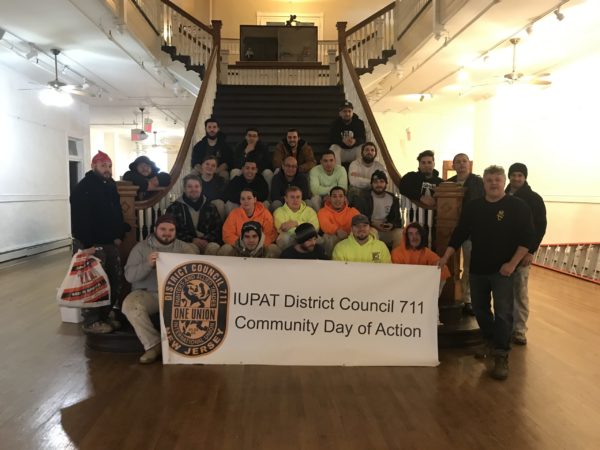 We were also able to complete a fence project in the south parking lot. With a donation from Walmart and private funding, this was the first step in improving the exterior and grounds. Grant applications have been submitted for us to really get a lot more repair work done on the building, parking lot and ramps. It is our goal to get the North handicap ramp, door and hallway rebuilt and ADA compliant.
We also intend to improve the North front door and the sidewalk on Lawrence Ave. We expect to hear about what funding we will be granted in early May. In the meantime, we are ready to go with a project that will improve the facades around the building once the weather warms. The wooden easements over the east and west side doors will be finished and completed. Look for our awnings to go up once we receive ok from Historic Commission.
We're also updating our marquee sign with our newest residents listed. It is also with great excitement that we will be able to put the name back on our beautiful building come April – we're looking into historic lettering options once the weather warms and operations resume! Thanks to the Monmouth County Historical Commission for the grant to crown "The Old Neptune High School" once again!