Located in Manasquan Borough, Fisherman's Cove has been a local spot that has not been affected by the building craze. Known to be pet friendly, the 65 acres are still drawing nature lovers to walk, collect shells or watch the parade of boats traveling the inlet.
Monmouth Conservation assisted the Monmouth County Park System with the acquisition of this property in 1955, making it the last undeveloped tract on the Manasquan Inlet.
During the summer months, Monmouth County Parks sponsors "Tidal Tuesday" where you can go on an adventure and learn about the wildlife.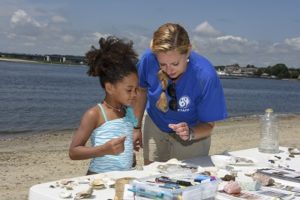 To learn more about Tidal Tuesdays, stop by the Activity Center at Fisherman's Cove and join a Park System Naturalist to discover exciting things about nature and our coastal habitats. Each week, take part in a different activity such as meeting creatures living in the water that we find in our seine net or creating crafts from natural materials found along the shore. Programs run for about 30-60 minutes. Open to all ages, under 18 with adult. FREE!
This program is designed for individuals and families, not groups. For details on the activity for the week, please call 732-751-9453.