By Carole Masters
In the spirit of Santa Claus, you clutch your list of good little boys and girls for whom you must find that perfect gift. You seek something that will delight them, be amusing, and full of discovery all in one. Wouldn't it be nice to have some help from Santa's elves?
No elves, but fortunately, our area has some wonderful toy stores with owners and associates; so helpful and knowledgeable, you might think they are Santa's elves in disguise. Common to all these stores is personal attention, creativity and free gift- wrapping that you won't find in the big box stores.
Learning Express on Highway 35 in Sea Girt, is a national franchise specialty toy store. Their goal is to be the "Neighborhood Toy Store," and owner, Michelle Sottosanti, enjoys knowing personally many of her customers and promoting a hands-on play environment. Sottosanti and associates know their toys and with a little description, can help you make the perfect choice. The store has a real creative feel with quality toys, games, dolls, and sports equipment.
Some hot items they are selling include Fingerlings by WowWee. These little monkeys cling to your fingers or anything else like little pets with interactive motions and sounds. Magic Sequin Pillows sparkle up a room and change design by sweeping your hand across the sequins. A more active hot seller is the LaserX for 6 years and up. This is an updated laser tag game with every thing you need for two players. Finally, for your budding singer, a favorite this Christmas is the Sing Along Pro Bluetooth Karaoke. A wireless microphone and speaker can be used along with Apps from Apple, Google or You-tube videos to perform karaoke.
Another service Learning Express is known for is the Birthday Box. A week or two before a birthday, children are welcome to come in and fill a tote with the toys they would like for their birthday. Friends and family can then choose to purchase the items from the tote.
https://learningexpress.com/store/sea-girt/
Quinnderella's, 119 Main Street, Manasquan was founded by Jenny Robertson 17 years ago. Robertson said she decided to open a toy store after having her daughter, Quinn, and not finding toys that were both fun and educational. Quinnderella's other locations include Quinnderella's Big Fun Toys, 702 Arnold Avenue, Point Pleasant Beach and another store up in Hoboken. Big and Fun's website claims to be the "silliest toy store around" but Robertson said that customers will find lots of educational games and science kits along with those silly play items. Their special niche is personalized gifts such as piggy banks, treasure chests and lap trays.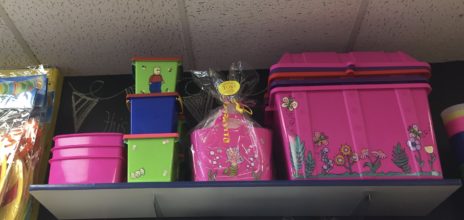 High on Santa's wish list at Quinnderella's are also the Fingerlings, along with LOL Dolls. These are decorative balls that open and have inside a small doll and little accessories to dress her up. Similar and also popular are Pikmi Pops, a large lollypop looking toy with a surprise stuffed animal in the top. Crazy Aaron's Putty for 3-year olds and up is also in high demand. It can stretch, bounce and glow in the dark.
For older children, Robertson said "My First Microscope and Space Lab both by Clementoni were highly sought after by her customers.
Toys for Thought, 310 3rd Street, Lakewood, is in a purple house and will surprise you with its 3 stories and over 10,000 sq. ft. Despite its size, the space flows into adjoining rooms with a playful feel and is well staffed to offer personal service.
After becoming a father of quadruplets, owner, Harold Herskowitz, was motivated in 2002 to open a specialty toy store that would provide play value as well as aiding a child's development. According to his sales manager, their motto is, "Our toys work on brain cells not batteries." They sell a few electronics but it is not their focus.
Herskowitz' favorite area is the board games and they have over 100. Two best sellers in here are Ghost Blitz and Clear For Take Off. Ghost Blitz by Zoch Vertag for 8 years and up has won the Dr. Toys, Best Picks Award and is a fun fast paced game using pattern, shape, and color recognition. Clear for Take Off by Blue Orange Games, was actually developed by an airline pilot and has a runway for a board where players must compete to board, taxi and take off their fleet of planes.
For young children ages 1 to 4 year-olds, the Neon Whirlee by Eezy Peezy an indoor/outdoor riding toy has been very popular. Snap Circuits by Elenco science sets have also been a hot choice for this Christmas. Most popular, Snap Circuits, JR. provides youngsters from 7 years and up with electrical parts that snap together to build working models of photo sensors, a flying saucer and many other projects.
List in hand, find your inner child and have fun exploring our local toys stores.