Holiday adult beverages should be as festive as the décor! Simple and elegant and ever so tasty!
Poinsettia–
Our "winter version" of the Mimosa!
Fill wine or champagne glass halfway with champagne, add cranberry juice and drop 3 cranberries into the glass. For an economical version, try "champagne look-alike" Verdi at your local beer distributor.
Made in Italy from grapes, it is considered a malt but is fantastic! We used it for catering and wedding toasts (at the hosts' request as a major saving.) Be sure to get the regular one.
Berry Sangria  –
Great for groups! Break out the punch bowl or a nice glass vessel with a spigot. Just a few minutes to prep. A perfect choice to serve all year long.
Add it all together and chill for an hour. If you've got a ring mold, add cranberry and water, drop in some fruit and freeze. When setting out Sangria, set ice mold in warm water to loosen. Remove from mold and gently-no splashing-place into the punch bowl.
Cabernet – 1 (750ml) bottle 
Razzmatazz- 1 Cup. (raspberry liquor or schnapps) *option: V8 Berry Splash
OJ – 1 Cup.
Cranberry juice- 1 Cup.
Maraschino cherries- ¾ Cup.
Raspberries- 1 small carton
Sliced oranges and limes- remove seeds
*if you like fizz, simply add some sprite or lemon-lime soda
Hot Apple Pie–
Like a liquid dessert and ever so yummy, this is great for winter weather parties!  Basically, it's only two ingredients and garnishes. This is a crowd-pleaser! The recipe below is per mug, but for a crowd, I do a crockpot with cinnamon sticks floating. Whipped cream garnish after ladling.
2 oz. Tuaca (Italian liquor with a fantastic combo of citrus and vanilla-excellent as a sipping cordial
too!)
½ Cup Hot Apple cider
Garnish with a dab of whipped cream and a cinnamon stick. For crockpot: 1-gallon apple cider with about 1 quart. Tuaca, drop in about 10 cinnamon sticks-set to warm. Side benefit….the house will smell great!
Here we go a Wassailing!
The Anglo-Saxon phrase "waeshael" translates to "good health." Historically this was an important part of the wassailing, a drinking and singing tradition in medieval England. It was supposed to ensure a good apple harvest the following year by singing to the trees in the orchard.
Hmmmm…..perhaps they drank a tad too much? So break out your mugs, have your singing voices ready for your next get-together with good friends. Originally containing mulled ale, curdled cream and eggs, the many modern versions have dropped these-thanks goodness!
Break out the crockpot or slow cooker and allow this elixir to steep and send the most glorious odors wafting about. Rarely would you need or want a scented candle when you've got this cranking about in the kitchen!
Add all to the pot and simmer on low-ladle into mugs:   
2 Cups dark rum, 1-gallon apple cider,  1 apple slice
2 Cups orange juice
 ½ sliced orange
10 cinnamon sticks
¼ tsp. ground cloves
Cranberry Snow–
Really a Cosmo but rimmed in snow!  
Finely ground dry sugared coconut (if can't find any simply pass-through a food processor)
Place coconut into a round dish. Using a wedge of lime, "rim" the glass by placing the lime onto the rim and slide all the way around. Next invert the Martini glass into the dish and gently rotate to coat edges with "snow." Set aside.
1.5 oz. vodka
½ oz. triple sec
1 oz. cranberry
Add ice and rest of the ingredients into a shaker, shake vigorously, strain into glass and serve.                                                                                                                          
Christmas Lights Out–
A nice little sippin' treat!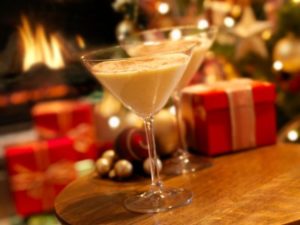 3 oz. vodka
1.5 oz. bourbon whiskey
1 tsp. maple syrup
½ tsp. vanilla
4 oz. low-fat milk
Shake and serve over ice.
Banana Nut Bread –
A drink with a crust!
Ground graham cracker * if can't find it, simply crush and grind graham crackers in the food processor, add 1 tsp. cinnamon and 1 tbsp. sugar
Mix the first 3 together and set in a wide round dish. Wet just the edge of a martini glass, shake off excess and invert into graham cracker mix-moving glass around to fully coat. You can use a lemon wedge to moisten rather than water.
1 oz. vodka ½ oz. banana liquor
½ oz. hazelnut (Amaretta)  Combine all liquors, shake with ice and strain into rimmed glass. This is a yum drink for sure!
Remember folks, go easy this week. It's been a crazy year and we wish you all a very Happy and Healthy Holiday!