I always say we live in the best place in the world, the Jersey Shore, but sometimes the heart needs an awakening and travel holds the key! So many of my readers share their posts of adventures and it's heartwarming to know that opening yourself up to something new and exciting is a value we all share.
I had the opportunity last week to take a trip off of my bucket list by going to Chincoteague and Assateague VA. Though not far from home, it's a bit of God's country as the locals there call it.
Why? As far as the eye can see, there are vast vistas of beach, dunes, trails, waterways, water-fowl, native species and of course, the wild ponies.
The excursion was offered by one of my favorite non-profits, The American Littoral Society who tirelessly work to enlighten us and help preserve our environment.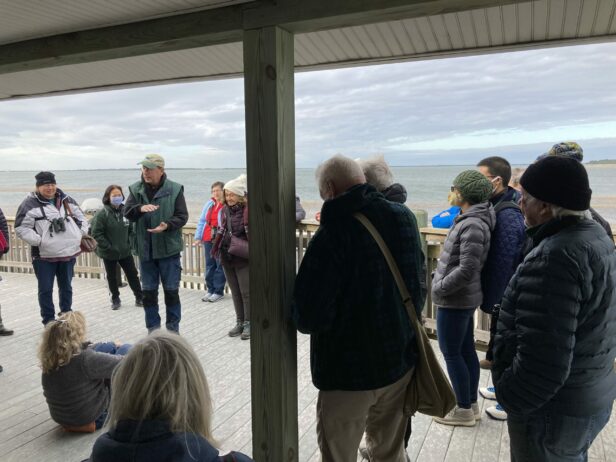 Led by Don Riepe, a skilled naturist and guardian of the Jamaica Bay, he led us on quite a few hikes through the trails, always stopping to explain a species or yank a log up to see what's inhabiting underneath it.
Other experts from the society explained botany, tidal flow, mushrooms, and every type of waterfowl you can think of.
Of course, the ultimate quest was to see the ponies in their natural habitat. And we did several times!
One morning, we ventured out with https://www.daiseysislandcruises.com/, on a charter boat that was able to maneuver in shallow water so we could get up close and personal to many of the birds who call that area home.
The captain and crew were knowledgeable and patient as we switched aft, port and starboard to catch a glimpse and photograph nature in all its glory.
On our return to port, we were escorted for a time by bottle-nosed dolphin!
Our hotel, The Refuge Inn, is home to several former wild ponies. Situated right next to the actual refuge, these ponies were delighted to be fed corn kernels sold out of handy candy dispensers.
Everywhere in town, the ponies are the main focus, but what was even more impressive was the seafood! WOW! Each meal was absolutely delicious AND we even learned about the existence of "Bumbleberry Pie!" Thanks to our fearless leader Don, we now know how delicious it is and I'm told many in our group ordered pies to take home with them!
That's the thing about traveling- you always learn something new, try new food, see something you've never seen before and then take these experiences home with you as treasured memories. I want to thank Don and the American Littoral Society for running this fun and so informative trip to God's country and I look forward to joining more excursions with them in the future.
If you'd like more information on what they do, click here: https://www.littoralsociety.org/
To see our resort, click here: https://www.refugeinn.com/
To learn more about Chincoteague, click here: https://www.chincoteague.com/