Bradley Beach Announces its Annual Halloween Parade and The Bradley Boo!
From 3:00 pm-5:00 pm, children are invited to Trick or Treat down Main Street to all of our participating businesses!
Special treats will be handed out, social distancing and mask-wearing are a must!
After your Trick or Treating head to the Bradley Beach Fire House to register for the parade starting at 5:00 pm! The parade begins at 6:00 pm.
PRIZES FOR THE BEST FLOATS AND
COSTUMES IN THE FOLLOWING GROUPS:
AGES: 1-3; 4-6; 7-9; 10-14
Children MUST Register Before Entering Parade.
PARADE WILL PROCEED SOUTH FROM FIREHOUSE TO RILEY PARK—PASSING BY A REVIEWING STAND.
SENIOR CITIZENS IN COSTUME ARE WELCOME!
While participating in trick-or-treating, all children should be accompanied by an adult, walk on sidewalks and use crosswalks, and be aware of your surroundings. Motorists are cautioned to drive slowly and stay alert watching for children on Main Street.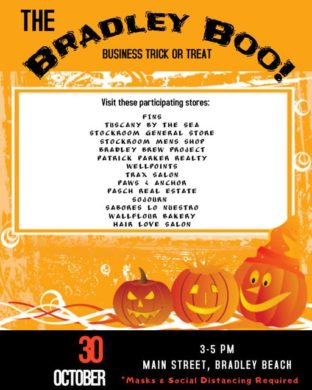 Bradley Beach Department of Tourism would like to thank the following businesses for their support and participation in creating a fun, safe event for all children: Bradley Brew Project, FINS, Hair Love Salon, Pasch Real Estate, Patrick Parker Realty, Paws & Anchor, Stockroom General Store, Sabores lo Nuestro, Sojourn, Stockroom Mens Store, Trax Salon, Tuscany by the Sea, Wallflower Bakery and WellPoints.
For an updated business participation list please visit
www.visitbradleybeach.com
**Please adhere to all social distancing guidelines and restrictions. Wear a mask when proper social distance cannot be maintained.
Curfew in Bradley Beach is 8:00 pm.
Let's have a safe and fun event!