Home sweet home with a proper cup of tea! Anyone who travels and loves a hot cup of tea knows what I mean. Recently, we did a summer of traveling starting in Newport, Rhode Island; then on to Italy, where we visited Milan, Venice, and Lake Como; and finally to our last stop, Charleston, South Carolina.
The trips are now beautiful memories and the sites we visited are imprinted in my mind forever. I can still see the towering mountains of Lake Como, nothing in the world could capture that view but the human eye and it will stay with me forever.
Here are my ratings for our trips this summer, from the best cup of tea to the best meal and most comfortable bed. We stayed at Castle Hill, New Port, Rhode Island; Excelsior Hotel Gallia and The Four Seasons Hotel in Milan, Italy; St. Regis Hotel in Venice, Italy, Grand Hotel Serbelloni in Bellagio, Lake Como, Italy; and Charleston Place in Charleston South Carolina, and we ate everywhere! We also ate at all the hotel restaurants. Whether you're headed to these places, or just want a scoop, here's my take on the greatest hits, and some of the misses, of these great destinations!
Best Hotel: Grand Hotel Villa Serbelloni, Bellagio, Lake Como, Italy ("HVS"). With views to die for, this former grand estate of several Dukes slipped into the top spot once we stepped into its gasp-worthy lobby and restaurant and saw the views of Lake Como and its towering mountains.
The staff was also very attentive and friendly, and their nightly piano player, Lulian Ochescu, made music that touched my soul, he was extraordinary, and their in-house restaurant, "Mistral", had the most beautiful views of any restaurant I've ever seen. The concierges also did not disappoint and assured our beloved family stuffed animal "Bronchi", (who has made all our trips with us,) made it back safe and sound to the U.S.A. when he inadvertently stayed behind under one of the beds. (I didn't blame him, I would've tried that too if I was 12 inches tall.)
Overall, HVS cared about their guests and were kind people in an extraordinary environment. We hugged them when we left, it was a beautiful experience.  I should also add they had the absolute best bath products I've ever smelled! Something between freshly showered and clean soap, I've been getting compliments left and right on how great I smell, as a couple just happened to make their way home with me!
A close second: St. Regis Hotel, Venice, Italy. This is a glorious hotel on the Grand Canal with amazing views and we were offered an upgrade, for a charge, to have a balcony in our room overlooking that spectacular view, which we gladly did, and it was absolutely stunning.
It was the perfect spot for morning tea and coffee and an apéritif in the evenings. I miss it as I write this, it was out of this world. I'll also add that their beds were number one in comfort, just heavenly!
Least favorite hotel: Four Seasons, Milan. I expect a lot from a Four Seasons, and this hotel in Milan did not quite measure up to other Four Seasons hotels I've visited. It was missing the elegance and refinement that this brand has become known for and instead felt more like an average hotel experience.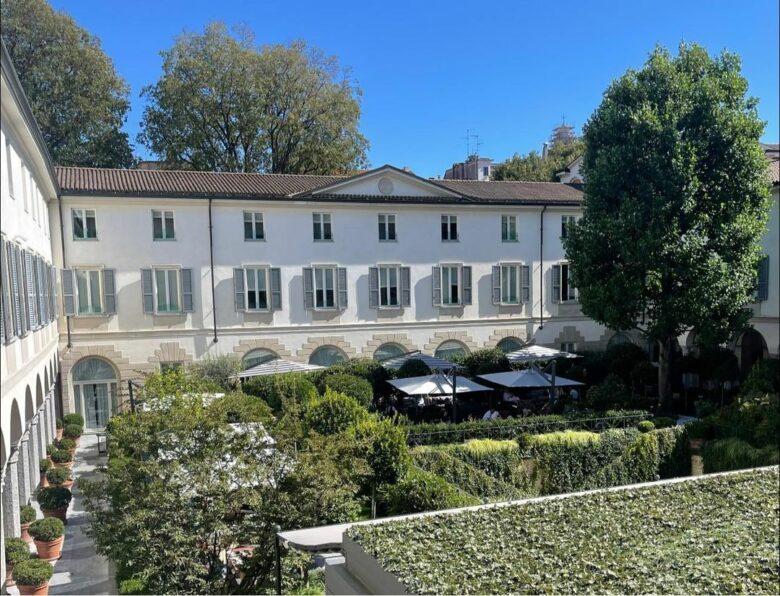 The check-in was haphazard, and the rooms were plain, but the bright spot was their restaurant Zelo. The food at Zelo was delicious, especially the Veal Milanese in this, its home city. The concierge was also helpful and friendly. But the gardens were missing live music and were somewhat underwhelming. Having stayed at one of my favorite hotels in the world, Four Seasons, Florence, the Milan annex just fell short and could use a heavy dose of its Florence counterpart.
Best Meal: Sorrelle, Charleston SC. Yup, the USA takes it at this hot new spot that I was lucky to get into with a multiple-month waiting list, (always ask your bartenders, thankfully the bartender at Charleston Place knew the owner, as the hotel is affiliated with the restaurant.) Here, the warm bread is homemade, crisp on the outside and soft on the inside, it was perfection.
The bread was served with a side of roasted garlic and great olive oil that they mix table side, a welcome beginning. Their pasta was delicate and handmade. I'm told it's one man's sole job to hand-make pasta for the restaurant daily. The pasta dish I had was made with a hint of anchovy, perfectly balanced and smooth with a sauce of velvety perfection.
The Florentine steak for two with a side of herb sauce was to die for. Burst of flavor, just excellent. Go figure my best Italian meal was in this southern American city, but the good news is it's close enough for a weekend visit.
Close second, it's a tie: La Punta, Bellagio, Lake Como, Italy; and Mistral, Grand Hotel Serbelloni, Bellagio, Lake Como, Italy. La Punta's Florentine steak with herb sauce melted in our mouths and their lake-caught fish appetizer, served cold in a vinegar sauce with onions was unexpectedly delicious. Mistral's tied for second due to their salt-baked, lake-captured Sea Bass. You have to order this dish a couple of days in advance (which we did the first night we saw it wheeled over to another table) because they go out and catch the fish for you on the lake. So exciting knowing that! They prepare it salt-crusted and serve it expertly table side. It's so tender and delicate, juicy and flavorful, it was seafood perfection. They also had an amazing raw shrimp appetizer with caviar that was decadent and delicious.
Least favorite restaurant: Bar II Molo, Verenna, Lake Como, Italy. We stopped at the busiest place we saw, which sometimes I do on my travels for a little spontaneity which is also the fun part of traveling. That is not the case in northern Italy, where I have found through trial and error that you can easily land in a tourist trap with sub par food. The food at Bar II Molo was not even palatable for some dishes, like the overly greasy zucchini flowers and "Molo bowl" of rice and chicken that I can only describe as depressing. I know that's harsh, but I really don't know how else to convey the look of disappointment when we saw it, much less tasted it. The views however were amazing and the drinks were decent.
Best Cocktails: St Regis on Grand Canal in Venice, Italy. There is something magical about that place, sitting there right on the Grand Canal, the people, the music, it was incredible, the epitome of European style and romance.
I felt like I was in an old Hollywood movie, watching from my seat and looking out at people who could've easily been in a romantic scene with their stylish dress and sparkly, colorful aperitifs, with a backdrop that was nothing short of surreal. It didn't hurt that they started off the cocktail hour choosing a patron to cut the top of a champagne bottle with a Sabre. I got chosen on day one and it was so fun! Everyone is given a glass of champagne afterward, it was a great experience.
Close second: Grand Hotel Villa Serbelloni, Bellagio, Italy. With their amazing piano player in a gorgeous room with towering ceilings and ornate decor, it was like being in a fairytale. My only complaint is that the mountains disappear in the nighttime, though you can see twinkling lights in their inhabited nooks and crannies. The experience overall is magical.
Best wine bar: Enoteca Cava Turacciolo, Bellagio, Italy. This quaint wine bar is located exactly where your mind takes you when you think "Italian wine bar" is absolutely perfect. With its cave-like feel and solid brick, it transports you to Tuscany or the basement of an old castle. As soon as you see the deli slicer, slicing the thin cuts of perfectly cured prosciutto under a mountain of arched stone you know you've landed in the right spot.
The wines were absolutely delicious, and the staff knew everything about them and was happy to explain and share the details. One of the sparkling whites is actually aged at the bottom of Lake Como, and while that might sound gimmicky, it really does impart a minerality that, whether it's from the lake or not, is absolutely sublime. I ordered quite a bit of wine from here and by the time I arrived home a week later they were already at my house, and for a reasonable shipping fee. Excellent! If you love great wines contact them for a shipment of your own. You'd be surprised at the reasonableness of it all. https://www.cavaturacciolo.it
Second best wine bar: Osteria Bancogiro, Venice, Italy. I couldn't wait to try the Venetian snack food called "cicchetti" which I saw Stanley Tucci eating it on his television series about Italy with gusto. This little place we found had delicious wine and fabulous cicchetti, the best that I tried in Venice.
The flavors were on point, with toppings like thinly shaved cured meats, delicate cheeses, anchovies, local baclava, and varied spreads on light and crisp bread, every bite was just right. I believe it's the bread that truly makes a proper cicchetti, because the wrong bread can take too much away from the flavorful toppings. It was a delicious spot that also boasts a restaurant on the water out back.
Most beautiful place: Bellagio, Lake Como, Italy is the most beautiful place I've ever seen. The mountains are majestic and the lake is serene, its European elegance at its best.
A close second: Venice, Italy, with its streets of canals and skyline views of historical churches and squares, Venice was otherworldly.
Breathtaking is the only way to describe this place where time seems to have stood still and isn't solidly promised for its future. It's like Epcot on steroids, no cars no bikes, all walking shopping eating and drinking. I loved it.
Best cup of tea: Hands down the St. Regis, Venice, Italy, and they even served their tea with hot milk. It was perfection and no other hotel even came close.
Best shopping: Charleston, South Carolina. I know what you're thinking I went to Milan, Italy, How could that possibly not be the best shopping?! Well, it would have been if I was a size 0 or maybe even a size 2 or 4, (which in that city would make me feel overweight). Milan was a vast disappointment unless you were shopping for shoes and bags, for that it gets the top spot, but for actual clothing it was archaic. In fact, it was actually upsetting to go through store after store after store and not find anything I could buy and I'm a size medium to large. You would think they would recognize us since we are the majority of women. However, just the opposite experience happened in Charleston. Every store offered a wide array of sizes of beautiful clothes. I was like a kid in the candy store after the crippling experience of shopping in Milan. You would think in this day and age that a city known for its fashion would be up with the times but it's definitely not. And for the record, I can rock any dress like my size 2 counterparts do. My message to Milan is make it and we will come.
Italy changes you. It creeps into your soul and hydrates the driest parts of you and brings you to life. Its energy and passion resonate within you without you even knowing it. And when you're back and you're in your own world, you can't seem to forget it. It's a lingering memory that you do not want to fade. I suppose that's why so many people visit Italy each year, to capture a little bit of that magic, like fireflies in a jar, and take those memories home, to burn bright and light up our corner of the world.
It's always an adventure when we all get the chance to travel. We have expectations and goals during our trips that we want to fulfill. I would highly recommend a trip to northern Italy for the views, the shopping, and the majestic European flair that is so ingrained in that region. I was, however, surprised that the northern Italian restaurants did not come close to the culinary quality of Italy from Florence south to Amalfi, where I last left off.
In the middle and southern parts of Italy, a bad meal is hard to tumble across, and the food is absolutely extraordinary. I was surprised that the food of northern Italy fell flat at many turns.
It was either underseasoned or underwhelming and just didn't have the wow you'd expect. We ate everywhere also. I should mention we tried Michelin star restaurant Enrico Bertolini in Milan, where the food was delicious, especially the light crisp taco appetizer, but the ambiance included views of a parking lot which somehow lessened the experience, especially at that level. We tried many casual restaurants as well, We enjoyed Osteria del Treno in Milan, where old-world flavors combined with new-world chefs to create delicious food.
But most restaurants couldn't rival the other areas I had visited before in Italy, and I'm not a "must have red sauce" kind of girl either. I just love greatly-made food, and I have pretty high standards for that.
The restaurants in Newport didn't make my list either, but I'd like to note the Lobster Roll at The Mooring was scrumptious and The Lawn at Castle Hill is a great place for a cocktail, lobster roll, and has beautiful water views. Castle Hill also had very kind and attentive staff, though the air conditioner units in their beachside cottages may keep you up at night if you like a quiet sleep. However, those beachside cottages have great views and offer relaxing privacy from the main hotel.
I'm looking forward to the conversations I'll have with other travelers about our trips, learning their tips and looking forward to trying their favorite spots on my next go around. After all, some of the most memorable moments we have in our travels are meeting the people that we come across, and the stories that we tell our friends and neighbors when we return to the most important destination of all, that little spot in this world we call home.