I believe we absorb the experiences we pass through in life, and Simone Hazel is a perfect example of just that. We spoke not too long ago at her beautiful shop, Stockroom Modern General in Bradley Beach. This space is lovingly curated by a well-traveled woman.
Simone's life has passed through many cities and countries and the best aromas, flavors, styles and textures became the base on which she's built several businesses. From her early beginnings designing window displays in SoHo and the East Village, Simone eventually landed at Dean and Deluca, a high-end general store in the city working in their art department.
Her background as a graphic and visual artist opened many more doors for her including a stint at a top-quality florist. It was during this time that she learned about three-dimension design and building a perfect centerpiece that could pass as a work of art.
However, being an entrepreneur at heart led Simone to begin an event design company and a textile company. The experience of having lived in New York, California, Hawaii and Italy brought a different sensibility to these businesses with a creative flair not seen at typical events.
So notable in fact, Sandals Resorts asked her to be their wedding coordinator at all of their locations! She still handles this position and also curates and designs all the custom linens used at Sandals Resorts.
With all this experience and a somewhat unexpected decision to move to the Jersey Shore with her husband, Sean Vokhshoorzadeh, Simone opened what she calls a "gourmet forward general store" five years ago. Her shop backs up to his, where he sees many clients and friends both local and from his flagship location in New York, Zohreh Men's Custom Clothing.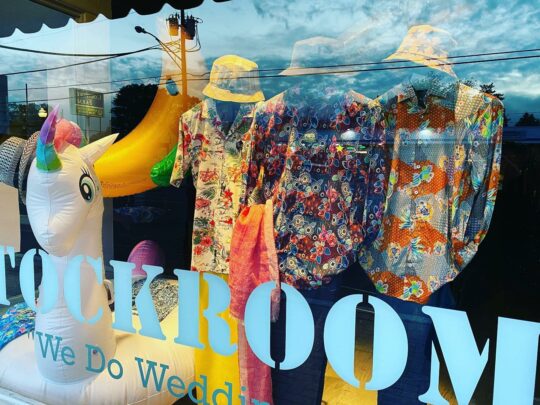 Stockroom Modern General offers customers a wide variety of gifts, tabletop, home decor, beach, botanical, baby items and gourmet food!
You will find a delicious assortment of cheeses, breads, tarts, and baked goods. Now, you can also get fresh produce as well.
Look out for more tasting events and community involvement from Simone. She has created that local place you just have to stop in at very often! There is always something new to see or to sample!
625 Second Avenue, Bradley Beach https://www.instagram.com/stockroommoderngeneral/
122-124 Main Street, Bradley Beach https://www.stockroombyzohreh.com/