As I was flipping through comments on a FaceBook Crafting page, one caught my eye. The post was from a woman asking for stocking stuffer ideas for her adult children. The response catching my eye was from a gal who claims Christmas stockings are just for kids…. not an adult! Of course, she was met with a barrage of disbelief and contradictions on the subject. To tell the truth, it surprised me too!
In our family, stockings were the most fun! Of course, we had a couple of jokesters in the family which always brought laughs and smiles. Traditionally, we ate breakfast together, then, often still in PJ's (even as adults) we would sit around the room while one by one each taking a turn to open one stuffer. Our stuffers were each individually wrapped making us take the time to try to feel and guess what the little treasures were. Often my brother or I would open something that we each had in the stocking such as a Chapstick, cough drops or Tic Tacs.
As we grew older, these still appeared, but cans of Deicer for car doors or grill lighters became useful. I loved the fact that we never had a mad, crazy rush of simply ripping packages open and in 2 minutes it was all over. Some years I wrote little poems or sayings which gave the receiver a hint as to what they had. The guessing was silly and fun! Every year I try to give a shout-out on behalf of the local hardware stores. Not the BIG Box stores, but the small independently owned small hardware shops.
So often overlooked as a gift store…. but that's just what they are. When is the last time you visited a small-town hardware store? Sadly, many women may have never stopped in and therefore have missed out. How many times are gifts given…simply because it's a gift? No major thoughts about what could really be enjoyed, needed and not be returned.
As you're thinking about a gift for a friend or family member, knowing their likes, dislikes, hobbies, etc. will lead you directly to the perfect usable surprises. Put thought into your choices. Mix it up with a lil humor to bring a smile and a laugh. These are the simple fun gifts that have meaning and are long remembered.
It's Ocean Hardware to the rescue!
For the crafter/artist: paint brushes, glue guns, bag of glue sticks, heat gun, paints & stains, Dremel tool, sponges, rags, glues of all sorts, various twines, jute & rope by the foot or roll, and so much more!
For the Fisherperson: minnow bucket, fishing rods (just bought my husband one), weights, bobbers, lures, buckets, crab traps, fishing line, fingernail cutter for cutting line, etc.
For the Camper: fire starters, firewood, tent pegs, cooler, Yeti items, fire pit tools, cooking utensils, etc.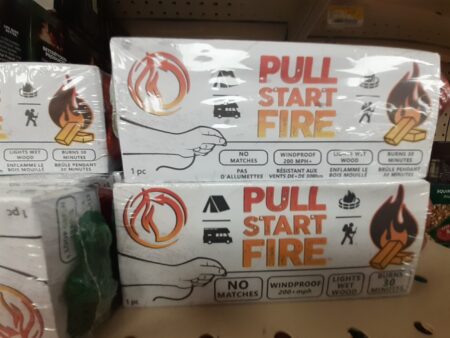 For the Plant Lover/Gardener: different-sized flower pots, indoor/outdoor plant food, watering cans, potting soil, pruning shears, plant food spikes, trowel, wind socks and whirly gigs, garden flags, critter repel products, screw-in insect repellent, bird baths, new hose, plant hangers, chain & rope by the foot, seeds, bulbs, garden twine, garden stakes, etc.
For the Decorator: picture hangers, Command Hooks, Alien Tape (I use this!) wood stains, wood/furniture scratch sticks (match most every wood finish,) house numbers, packs of picture hangers, new paint rollers, brushes, edgers, stencils, decals, shelf liners, chains, etc.
For the Bird Watcher: suet cages and suet blocks, bags of bird seed, bags of cracked corn, assorted feeders to attract a variety of feathered friends, squirrel feeders, outdoor thermometers with bird accents, bird baths, small galvanized cans to hold seed (paint and embellish to personalize**) jars of Vicks **FYI smearing Vicks on feeder poles will keep squirrels & chipmunks off!!**
For the Chef: food injectors (we use with apple cider, spices, etc. into roasts, chicken, turkeys, pork loin), oven mitts, rubs, spices, tongs, skewers, oils, BBQ sauces, grill lighters, wood chips (for the smoker) aprons, etc.
For the Fixer/Repairs: wood glue, caulk, caulk gun, glue gun, heat gun, plumbers' tape, electrical tape, masking tape, painters' tape, packs of screws, tacks, drill bits, screwdrivers, files, sandpaper for hand & electric sanders, brads, finishing nails, replacement solder, flux, flux brush, etc.
For the Boater: Looking for marine hardware and boating care products? Come on over to Ocean Hardware, they've got what you're looking for!
For anyone: hand and foot warmer packets, assorted lip balm, hand sanitizers, stain removers **free sample by register**(I bought the bottle for rust stains on outdoor carpet and stubborn toilet ring), fun outdoor flags and wind socks (even one as a mug of beer), etc.
So, you see, just peruse about in a local hardware store and you'll surely discover a world of cool little, and big items which will light up the recipient's faces on Christmas morning.
For those in the Brick, Pt. Pleasant area THE place to go is smack dab on Mantoloking Road!! Ocean Hardware opened a few years ago and is now the favorite go-to in our book! The owner, Thomas Hurst, and the staff are super friendly and are ready to assist in any way they can. Can't find what you're looking for? No worries, just ask.
OCEAN HARDWARE **located next to Tow Boat US**
149 Mantoloking Road
Brick, NJ 08723 (732) 714-5770