On Thursday, May 2nd, Mary's Place by the Sea will open its home to thirty women from the Jersey Shore region for a day of self-care. Event participants will nourish their minds, bodies and souls through guided instructional classes including nutrition education, Soul Collage®, bracelet-making and intention-setting, yoga and meditation. While enjoying a plant-based lunch, attendees will listen-in on an intimate "fireside chat" with Executive Coach and Speaker Jeanie Coomber, Mary's Place co-founders Michele Gannon and Maria McKeon, and Karen Campi from All in the Family Dental Care.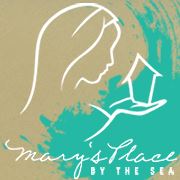 President and Co-Founder of Mary's Place by the Sea, Michele Gannon, shared, "Over the past ten years of helping over 9,000 women with cancer, in offering our guests the opportunity to process their cancer and what is going on in their lives, we have found that 80% of what they talk about is what happened before their diagnosis: the grief, trauma, and hardship. We are realizing that there is a great need for women of every age and in every stage of life to be practicing self-care right NOW. Spending our days at Mary's Place by the Sea has taught us that we ALL need a moment to hit the pause button. We need to quiet the noise, empty our emotional baggage and just breathe. We are excited to partner with All in the Family Dental Care to bring NOURISH YOU to the women in our area."
The Campi Family, from All in the Family Dental Care, wanted to create and sponsor this day to share their knowledge acquired through decades of serving the community. "Overall health isn't just about passively going for your annual checkups. There are many things a person can do to actively participate in taking care of their minds, bodies, and souls. We are proud to shed light on daily habits and nutrition tips so you can feel confident in being the best version of yourself." said Karen Campi.
NOURISH YOU will be held on Thursday, May 2nd from 9:30AM-2:30PM at Mary's Place by the Sea, located at 22 Main Avenue in Ocean Grove, New Jersey. Registration is $50 per person and is limited to 30 women to create an intimate environment. A plant-based lunch will be provided. Registration can be completed online at http://www.campidental.com/nourish-you
Proceeds from this event benefit Mary's Place by the Sea, a respite home for women with cancer to heal: mind, body and soul. 
Aptly named All in the Family Dental Care, the practice serves all ages with a full range of state-of-the-art treatments and technology in a relaxed friendly setting. All in the Family Dental Care has been caring for their patients in and out of the office for 85 years and just welcomed their 4th generation. The entire staff is extremely proud of their history and reputation as leaders in the dental field. Their mission is to provide excellence in dentistry with the highest level of service.
Campi Cares is the philanthropic effort of All in the Family Dental Care led by the Campi Family. All in the Family Dental Care has been serving the Jersey Shore since 1933 focusing on overall health and wellness, nutrition and education to strengthen our community.