NJHDA presents the New Jersey Shipwreck Colloquium:
LUSITANIA'S LEGACY
Saturday, February 26, 2022, 7:30 PM to 9:30 PM
at the Taylor Pavilion, 500 Ocean Ave, Belmar, NJ 07719
A Special Presentation by Joe Mazraani & Jennifer Sellitti
In August of 2021, a team comprised of four American and four British divers set out to Ireland to explore and document one of the world's most historically significant shipwrecks, R.M.S. Lusitania. This Cunard liner fell victim to a German torpedo in May of 1915. She sank in approximately 20 minutes. 2,001 died, including 128 Americans. So many men, women and children died in the disaster. This caused many Americans to pressure the U.S. government to enter WWI.
Admission is $25 per person ($20 for NJHDA Subscriber Members).
Send checks to NJHDA, 107 Wilson Road, Neptune, NJ, 07753.
For reservations, call 732-776-6261 or e-mail njhda@aol.com.
Reservations required – seating is limited. (Advanced payment guarantees seating)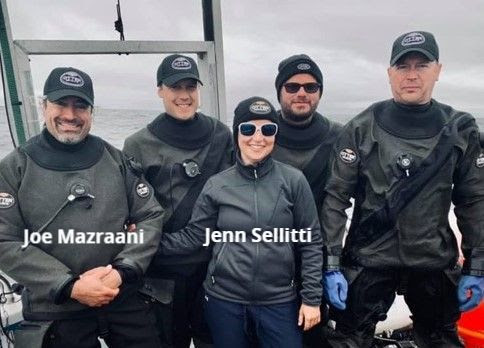 Speakers: Joe Mazraani & Jenn Sellitti
Diver Joe Mazraani and Surface Support Team Member Jennifer Sellitti will share with the N.J. Historical Diver's Association our team's journey to Lusitania. We will discuss the wreck's history, Lusitania's historical connection Ireland and to the tradition of Irish wreck diving, and current efforts to preserve this iconic vessel's memory for generations to come.
The presentation will include photographs, video, and a photo display by Diver/Photographer Joseph St. Amand. In addition, we will premiere the final cut of Lusitania's Legacy, a film created and produced by expedition Diver Rick Simon and Jennifer Sellitti. The film debuted with live narration at the Boston Sea Rovers Film Festival in October of 2021, but this will be the first time the final cut is shown.