Part One: "One Bourbon, One Scotch, & One Beer"
The Atlantic Highlands, NJ of 1933 would be barely recognizable in comparison to today's Bayshore town. Prohibition was about to be repealed. The bootleggers, smugglers, and strong-arm artists that plagued the Bay Shore in those dry days, were moving into legitimate businesses.
Al Lillien, head of the Rum Radio Ring, had been murdered in his mansion on Serpentine Drive, a pair of white pallbearer's gloves and a King of Spades left near the body. That summer of 1933, a man could walk into Tumen's Clothing store and purchase polo shirts for 49 cents, slacks for $1.69, or dungarees for 79 cents. A woman could buy a linen-blocked suit or dress for $1.49. You could buy tires for your car at Naylor's on First Avenue, or coal from the Smith & Mausner Fuel Company at the foot of Mount Avenue.
And, of course, you could buy the "very best meats in Atlantic Highlands and vicinity at Jagger's Market: 92 First Avenue", according to their advertisement in the Atlantic Highlands Journal. In 1929, the Standard Oil Company of New Jersey, despite a lawsuit filed by Mrs. Flora Morrison seeking to curtail construction, built an oil transfer station on the waterfront on the north side of Avenue D. On the South side of the street was The Atlantic Beach Amusement Park, stretching for some 17 acres along the east side of Bay Avenue to Avenue A.
The Atlantic Beach Amusement Park began its first summer season in 1915 as Bayview Park, then as Joy Land Park, and then Atlantic Beach Amusement Park. Regardless of its nom de jour, the park was tethered to lower Manhattan's Battery via the Boston, New York & Southern Steam Ship Company's excursion ship, Mandalay.
Mandalay became so famous to travelers, having carried over two million passengers to and from Atlantic Highlands over her twenty-three-year career, that they referred to the amusement park as Mandalay Park.
The park's main feature was a long roller coaster that was powered by ordinary automobile batteries. It also boasted an ornate Carousel, imported from Germany, a thirty-foot Ferris Wheel, and what we would refer to as Bumper Cars today, called "The Whip". There was a Mid-Way with games of chance, Skeeball, a Shooting Gallery, a strength test where the guest would use a large hammer to ring the bell, a balloon, and dart challenge, numerous food stands, a Gypsy Fortune Teller, Movie Machines (called a Mutoscope) and a Miniature Golf Course.
It was 1920. Irving Wexler, also known as "Waxy Gordon", an opium purveyor and a former, "gifted": pickpocket, was nervous. He was waiting to meet Arnold Rothstein. Rothstein was famous in the underworld. "This guy fixed last year's freakin' World Series!" Gordon had told his partner, Max Hassel. "So, he sure has the dough…and he's smart. He's the guy we want." But now he was sweating. Waxy had, he believed, a great way to get himself and his partners, Hassel and "Big Head" Maxey Greenberg, rich.
The plan was to establish a Rum Running group out of Detroit, using Canadians to procure the liquor, and local Detroit gangsters to import and distribute the booze. Waxy Gordon believed it to be a great plan. Foolproof, even. All they needed was $175,000.00 from Rothstein. Sure, he'd take his usual 25%, but it would be worth it. Just then, the door opened, and Waxy went in to meet the Mob's "big bankroll", Arnold Rothstein.
After listening to the plan, Rothstein dismissed Gordon. He wanted to think about the plan before investing. The truth was that he knew that their scheme was destined, not to make Gordon and his friends rich, but to get them pinched by the cops or dead. The problem was Detroit. Rothstein did not know any mobsters in Detroit. Johnny Torrio and his sidekick Al Capone, ran Chicago, so that was out of the question. Besides they would want too big of a piece.
Still, there was merit to this idea…
A few days later, on a bench in Central Park, Rothstein met with Waxy Gordon. He would give them a loan of $175,000.00 for the usual percentage. But the operation would be run from New York, rather than Detroit. They would use an associate of Rothstein's on the lam in England instead of going through Canada. Harry Mather would buy twenty thousand cases of liquor in Britain and ship it to the United States. In the end, the plan worked exactly the way Rothstein had planned, and he did not stop there.
He knew that he could not trust the New York Mob to expand his idea. They would just take his plan and cut him out of it, or worse. So, he recruited and trained his own gangsters. He found young street hoodlums that he could mold. Aside from the Waxy Gordon mob, Rothstein hedged his bet. He bankrolled Lucky Charley Luciano, Meyer Lansky, Vito Genovese, Frank Costello, and Ben Seigel. This was exactly the type of gang he was looking for to expand beyond the Gordan gang.
All for a "small" percentage. It was here, at this point in history, that Bootlegging was invented. And the second gang, with Lucky Charley at the head, would be earners. He knew this surely as he knew the back of his own hand. After all, Rothstein was playing "Fagin". It would be a "fine life".
Born on November 27, 1897, in Tofino, a small town in Italy near Naples, Vito Genovese came to America with his family at the age of 15. They settled in the area of Manhattan known as "Little Italy" near Mulberry Street.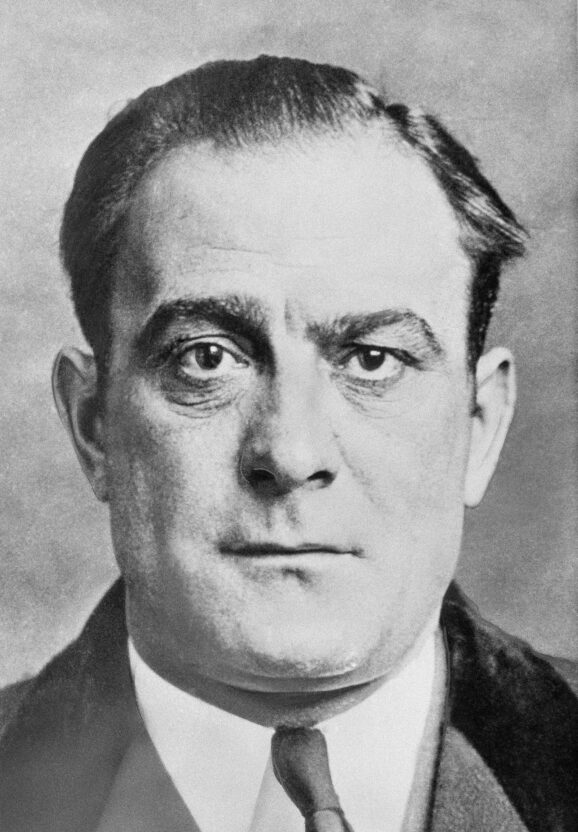 Nearly instantly, young Genovese began running with street hoods. By the time he was 19 in 1916, he was convicted of illegal possession of a weapon (a gun) and spent a year in prison. He had also made a friendship that would alter his life forever, a thug by the name of Lucky Charley Luciano.
Over the years, Genovese would become Luciano's most reliable and trusted enforcer and hitman. Together, they killed their way to rule the mob. But in 1920, they were just teenage street thugs looking for a piece of the illegal booze rackets. Their forays were bankrolled by loans from Rothstein.
Initially, Luciano and Genovese began working for Giuseppe "Joe the Boss" Masseria in New York City's Little Italy neighborhood. Eventually, the two became Masseria's most trusted lieutenants. By the mid-1920s, Luciano was a multimillionaire and New York's top bootlegger, making and importing alcohol with other Prohibition-rich associates including Vito Genovese, Frank Costello, Meyer Lansky, Benjamin "Bugsy" Siegel, Louis "Lepke" Buckhalter and Abe "Longy" Zwillman.