These two are near and dear to my heart. Please meet my daughter-in-law Amanda Campbell
and her sister, Michelle Riley:
Question 1- When and how did you start writing?
We started writing in January 2020 because we were both filled with a fire to guide women to put themselves first in an effort to close gender stereotypes and to challenge gender inequality and bias. We knew that women, including ourselves, needed to read and truly and meaningfully understand that our health and wealth are so intrinsically connected. From there, we can begin taking real action to swing the pendulum from the pervasive male-centric narratives in both the health and wealth arenas.  
Question 2- What do you like to write about most?
Self-care and self-motivation for women. 
Question 3-What do you find to be the easiest and hardest thing about writing?
Easiest – To write about the subjects we're experts in! Amanda can write about financial planning for women just as easily as Michelle can spout off on personal training and nutrition for women. Our passion for empowering women in our respective fields is so strong the words seem to "flow" out onto the paper.
Hardest – To write a memoir. It's incredibly hard to share, in writing for all to read, experiences that have shaped the people we are today. We felt that it was important to share some really hard parts of our stories in our 360° Action Plan so women understood why we feel so passionately about taking a stand and educating modern women on all aspects of their fiscal, physical and emotional well-being.
Question 4- What writers do you most admire and why?
We both love Jen Sincero's "You are a Bada**" series. She has a great way of speaking to the reader in a way that is educational and pragmatic while still letting her personality authentically shine through. She allows the reader to take themselves on their own journey of self-discovery through her own relatable tales – some funny, some sad. She's genuine. That's the style we were going for, too. We wanted women to feel comfortable reading our book with a cup of coffee or a glass of wine, in the office or at the beach… we didn't want it to feel like a boring self-help book so we channeled Jen Sincero and organically, our styles aligned. 
Question 5- How do you get your ideas for stories and what's in the future for you in writing?
We are still amazed we wrote one book! Not because we don't have the material, but because it seemed like a crazy undertaking last January! However, we've already gotten many requests for a "sequel" of some sort. We don't know what exactly is next on our horizon, but we know it will absolutely remain female-centric in health and wealth. We're thinking of a "grow up" series for young girls so that from the age of 1, they are creating real and positive affirmations of health and wealth. 
Closing – Can you share a memorable experience you've had purely because you are a writer?
Women sharing their own stories with us has been incredibly moving. From women telling us they can relate to our memoirs and that reading our stories made them feel like they were not the only ones to experience something so traumatic so young, to women telling us they felt inspired to get their own lives in order and make real and meaningful changes to how they take care of themselves. The connections are so real in a time where the pandemic has made true connections more difficult than ever. It's all been more rewarding than we could've imagined.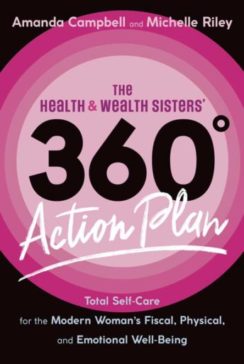 To purchase your copy, click here:
https://www.amazon.com/Health-Wealth-Sisters-360%C2%B0-Action/dp/173630710X/ref=sr_1_1?crid=2SGJU9JG61Z56&dchild=1&keywords=health+and+wealth+sisters+360&qid=1615833666&sprefix=health+and+wealth+sist%2Caps%2C169&sr=8-1