Remember that iconic line in Field of Dreams? In that movie, Kevin Costner had a vision and built an out-of-this-world baseball diamond for a spiritual all-star team.
It struck me that as I was touring a beautiful new home in Wall, the builder and his wife also had a vision that will surely bring new families into our local community.
Ross and Jennifer Hansen are changing the landscape of what new home building looks like
here at the Shore. No cookie-cutter McMansions, but rather a sense of style and grace
emboldened with natural sunlight and a clear vision of use and family structure.
I met them at 2938 Hurley Pond Rd, their latest project that was just completed and is now listed with Stephanie Liskowitz of Keller Williams Realty.
This is a country road I know well having spent many days here walking with friends. Across from this site is preserved farmland, and a Christmas Tree farm is right up the road. Farmland living while being minutes from the beach is a buyers dream.
Jennifer and Ross put much thought into the interior both in layout and design. They worked with architect Gregory Ralph to draw the vision into house plans. Wide open space allows natural light to shine in through the many windows and take advantage of farmland views. This home can hold a large family and their visitors very comfortably.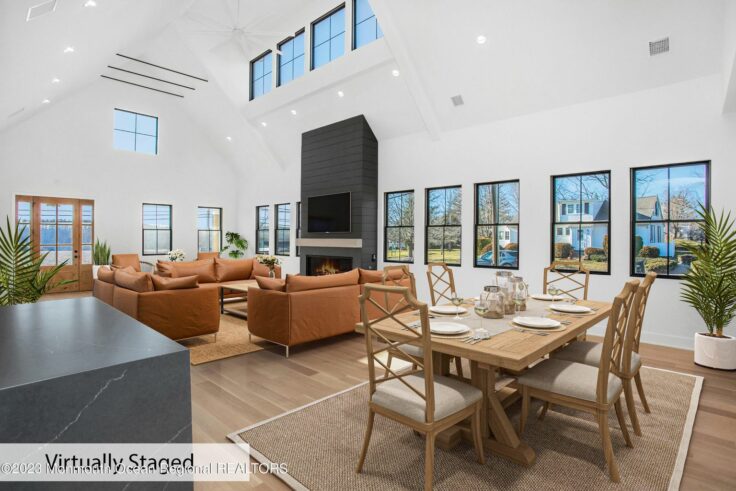 Ross started working in construction by renovating, updating and flipping existing homes. With each project, he acquired "best-of" ideas that would serve him well later when building homes of his own design.
Jennifer is a teacher in the Hazlet school district and co-owns Metta Yoga, located in the Waverly in Neptune with her husband Ross.
Together they designed that studio space with flow and light and a serenity that now welcomes regularly scheduled photo shoots and parties.
The home on Hurley Pond Road is the fourth project that these two have built from the ground up. With each build, their style has grown and evolved.
Their recent work can be seen in Farmingdale, Keyport and Wall. You can follow their projects on Instagram
There is still more work to be done too- I believe Ross and Jennifer are envisioning their next project as a place to plant their roots and call home and I know this for sure, it will be
spectacular!