On Sunday, September 19th, Mother Nature once again provided Holiday Express with a picture-perfect day for the 14th annual Holiday Express Sunset Benefit Clambake, on the beach at McLoone's Pier House.   The evening was a huge success thanks to generous corporate sponsors, individual supporters, and exceptional volunteers, who helped raise more than $90,000 to support the Holiday Express mission, which is to deliver music, food, gifts, financial support, and friendship to those with the greatest need for the gift of human kindness during the holiday season and throughout the year.
Approximately 300 guests were treated to an evening of ocean breezes, a brilliant moon-rise, a lavish buffet, and dancing.  Live entertainment was provided by the Holiday Express Band.  There was also a silent auction that was a success thanks to the generous donations of many local businesses.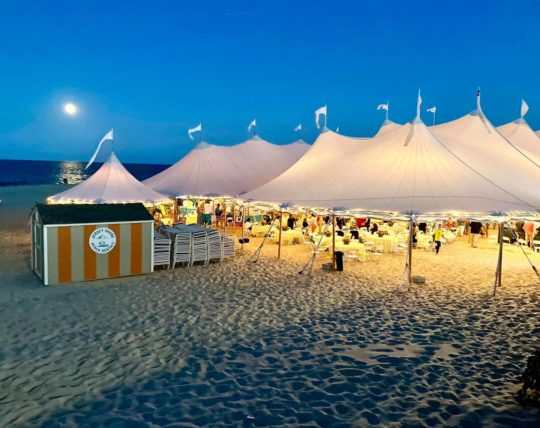 This year Holiday Express will be visiting 100 locations during the holiday season with a mix of live and virtual performances.  Proceeds from the Clambake will improve the quality of life for the 27,000 adults and children being served by Holiday Express during the 2021 holiday season.  Holiday Express visits the mentally and physically challenged, the isolated, individuals in addiction and recovery programs, the poor and the homeless and children with serious illnesses.
Established by Tim McLoone in 1993, Holiday Express is a non-profit organization comprised of 2,500 volunteers, including 150 professional rock, jazz, folk, gospel, and pop musicians.
For more information and ways to support Holiday Express please visit www.holidayexpress.org or call 732-544-8010.
Cover Photo:  Auction co-chair Diane Schneider, Executive Director Lorrie Klaric, Holiday Express founder Tim McLoone, Board President Terel Cooperhouse, and auction co-chair Phyllis Peterson.