By Muriel Smith ~
In nearly nine decades of an exciting and happy life, Howie Marlin has seen and done a lot.  He's met and interviewed stars of sports fields, as well as continued the kindness, generosity and service to others his father instilled on him since he was a child.  He's seen his son, grandson, and great son play baseball on the same field his dad made possible years ago in Elberon.
And he's even declined to interview Mickey Mantle in the men's room of a local restaurant!
Marlin, Brooklyn born and Long Branch resident for more than 65 years, was a minor league baseball star himself, bringing home $150 and working other jobs to supplement the seasonal weekly salary. He was host of a local cable tv show that went from being viewed just in his home town to being aired to viewers in nearly 30 communities in Monmouth and Ocean counties.  He went on to compile many of those interviews into a book that's in local stores and available at the programs he presents at libraries, clubs and other organizations. The book only came about because Marlin wanted to save the programs and had a willing and capable grandson who could help him transpose to 21st century electronics.  When others learned there were more than 300 interviews and begged Marlin to put it in a book along with sidebars and further information, he acquiesced and became an author!
His lectures are charming, given the people he has interviewed and his folksy, friendly way of telling stories that will make you laugh, remember, and yearn for an earlier time in the United States.
But back to the Mantle non-interview.  The Hall of Famer who spent his entire career logging impressive statistics with the New York Yankees was making an appearance at Squire's Pub, and Marlin was there to get an interview for his cable program. Covering all the bases with requests for interviews, he was only assured that "if it's possible" he'd have his interview at the end of the program.  Mantle himself had said he wasn't sure he'd have the time. But later, when Marlin was in the men's room and Mantle himself walked in, the two grinned at each other and Mantle asked if he wanted to do the interview then and there. Marlin laughed, thanked him, and suggested they go outside where they could appear before the cameras. Mantle agreed, and the local sportscaster got his interview. It was also his favorite, among the hundreds he's done because Mantle, who was there  for a benefit for cancer research, was gracious, friendly, and "just a genuinely nice man."
There were other baseball greats on the other side of Marlin's mike as well…Willie Mays, who asked the interview be kept to a minimum considering he had just come from an 18-hole golf tournament, had been given a prestigious presentation, it was late afternoon on a hot summer day,  and he was tired. Marlin kept his interview brief and got his story.
There was Duke Snyder, local athletic volunteers and coaches who had made differences in the lives of thousands of children. And there were stars of other sports as well,  Super Bowl Champion Phil Villapiano and his brother and dad, all of whom have been generous with time and talent in Monmouth County, tennis great Althea Gibson., and the list goes on.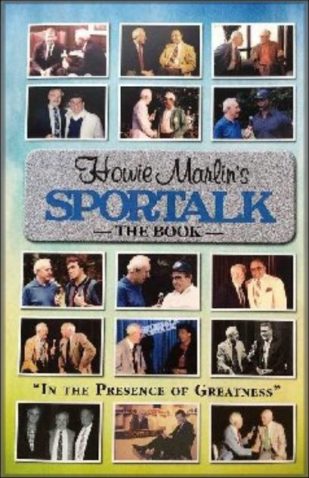 Marlin has feelings about how baseball, the game, and Little League, the sport, have changed over generations, but still think they're both great fun and an important part of a youngster's life.  He doesn't begrudge the seven figure salaries some players make, but he does wonder why some people attend games for which they pay good money, then spend their time in the bleachers on their phones, texting, tweeting, and talking. He's happy there are still the leaders and coaches around who want to teach the sport and what its athletes should stand for to the next generation. But at the same time, he also remembers, and yearns for, the advice a minor league coach advised him one day many years ago. "You might not always be a good player. But you always have to look like a good player."  To Howie Marlin, that meant dressing well, keeping uniforms clean, not chewing tobacco, and holding on to standards were all part of the make-up of any young person, from Little League to the majors, who knows the true meaning of America's favorite sport.
Howie Marlin, baseball player, long time contributor of volunteer services to his community, interviewer, cable star, author, public speaker, near-nonagenarian, still holds to those ideals in his own life.