Content provided by our partner, Surf Suds Laundromats ~
Going green is a very popular trend and can be applied to almost every aspect of our lives including our laundry. Removing stains naturally takes a little more know-how and work but when used correctly, these methods are highly effective.
TIP: Always treat stains from the back, rather than the front, to avoid rubbing the stain in more.
Natural Stain Remover Supplies
Rubbing alcohol

Borax

Hydrogen peroxide

White vinegar

Baking soda

Liquid Dish Soap

A laundry brush
How To Treat Different Types of Stains
Ink or Paint Stains:

Soak in rubbing alcohol for 30 minutes or (ink only) spray with hair spray and wash out.

Tea or Coffee Stains

: Immediately pour boiling water over the stain until it is gone, or if it is already set, scrub with a paste of borax and water and wash immediately.

Grass Stains

: Scrub with liquid dish soap or treat with a 50/50 hydrogen peroxide (3%) and water mix

Mud Stains:

Let dry and brush off what you can, then scrub with a borax/water paste and wash immediately

Tomato-Based Stains

: Treat with white vinegar directly on the stain and wash immediately.

Dingy Whites or Underarm Deodorant Stains:

Soak the stain directly in a mix of 50/50 hydrogen peroxide and water for 30 minutes and then add 1 cup of hydrogen peroxide to the wash water. For really tough yellow stains, make a paste of 3% hydrogen peroxide and baking soda and rub into the stain. Leave on for 5 minutes before laundering.

Other Food Stains

: Treat with a mix of 50/50 hydrogen peroxide and water and soak.

Grease and Oil Stains

: Sprinkle the stain with dry baking soda to remove any loose oil or grease and brush off. Then, soak in undiluted white vinegar for 15 minutes, rinse and scrub with liquid dish soap before washing

Vomit, Urine, Blood, Egg, Gelatin, Glue, or Other Protein-Based Stains: DO NOT WASH IN WARM WATER!!!!! This will set in the smell. Soak in cool water and then wash with an added mixture of 1/2 cup hydrogen peroxide and 1/2 cup baking soda in the washing machine.
Surf Suds Laundromats can help you get all your laundry crisp and clean!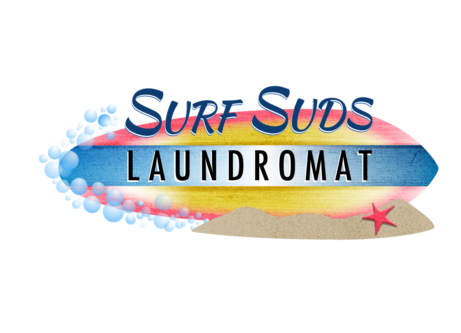 Clean Is Our Guarantee!
Our attendants expertly handle your Wash, Dry and Fold orders. Don't forget to get your comforters Summer Clean ready!  Whether you call for our Pickup and Delivery Service or drop off your order, you can be sure our attendants will discuss your special instructions, determine the most cost-effective way to handle your laundry, then provide you a fair price and estimated time to complete.   Most orders are completed within 24 hours and many are done same-day. For those who do their own laundry, our attendants can help you choose between our small, economical Maytag washers through our high-end, American made, 30, 40 and 60 pound Dexter washers.  Our dryer vents are cleaned to ensure the quickest possible drying times. For your comfort, we have TVs, free WiFi and comfortable seating. We have three Surf Suds locations to meet your laundry needs: