Content provided by our partner Aaron Ellis, Live Life Moving ~
Saturday May 4th at Live Life Moving, Asbury Park
May 4th is National Pilates Day!  We are celebrating Joseph Pilates with a workshop to help everyone discover the brilliance of the Pilates method!
Are you looking for a low impact way to get fit?  Would you like to learn exercises that change your mind and body from the inside out?  Have you tried Pilates but felt like you weren't doing it correctly or it was just too hard?
Discover how the Pilates method was designed to make your body (and your mind!) feel GOOD.  Join studio owner and master teacher, Aaron Ellis on Saturday May 4th from 12-2 pm at Live Life Moving in Asbury Park.
"Physical fitness is the requisite of happiness"
Joseph Pilates created his fitness and wellness method in the early 1900s.  Having been sickly himself as a child, he became fascinated with how the body works and how to maintain fitness. Although it is often believed his method was created for dancers, he created his method for everyone,  believing we should uniformly train the mind and the body in order to achieve a balanced and happy life.
You don't have to kill yourself for hours to be healthy!
Joseph Pilates believed that:
"A few well-designed movements, properly performed in a balanced sequence, are worth hours of doing sloppy calisthenics or forced contortion"
Practitioners around the world have discovered these common principles in his work:
Breathe

– "Above all, learn to breath correctly" Each exercise is designed to strengthen the body's ability to fully breathe.  You will strengthen your ability to breathe helping to increase your energy, stamina and reducing stress.

Centering

– Moving from the center of the body, your core, your powerhouse.  Keeping your movements centered helps you maintain proper alignment and avoiding injury.

Control

– in each exercise, we focus on controlling every part of the body simultaneously.  This helps you execute other activities more efficiently.

Precision

– There is a precise placement of the body and proper alignment in each exercise.  This helps increase your body awareness and improve posture.

Flow

– Each exercise has a specific transition and we are meant to flow from one to the next.  This helps increase stamina

Concentration

– Putting the other 5 elements together force us to use our mind fully during the workout. When fully concentrating, the workout has an almost meditative effect, leaving your mind clear and calm.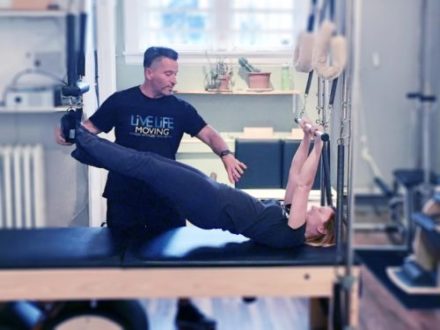 Large Pilates Classes and home videos don't always teach you what YOUR body needs.
In this workshop, we'll look at some of the basic exercises and discover how by applying these principles to these simple movements can lead to great results without having to spend too much time. Through lecture and hands-on feedback, you'll learn how to execute the exercises the best way for YOUR body.
When executing the exercises the way that fits their body, practitioners can feel and see the following results:
Improved Posture

Increased Flexibility

Increased Strength and Muscle Tone

Improved Breathing

Better Balance

Increased energy and a Positive Outlook on Life
Attendees will also receive free access to Live Life Moving's digital online course – Get Moving with Pre-Pilates (coming in May 2019).  You can view a preview here: https://youtu.be/AXc-hFSTo0w
For National Pilates Day, we are offering 50% off of our normal workshop rate!  Sign up for only $20.
To sign up for the workshop, visit: http://www.livelifemoving.com/may-4th-beginner-pilates-workshop/
Aaron Ellis is the owner of Live Life Moving, a fitness and well-being studio located in Downtown Asbury Park. He received his full Pilates certification from Power Pilates in NYC in 2005 and keeps active in continuing education in all aspects of fitness and wellness.  He is also a NASM Personal Trainer and worked as a master teacher trainer and International presenter for Les Mills.