The nonprofit Asbury Park Music Foundation ushered in a new era with "
A Season of Change."
 The
private reception featured entertainment by local musicians Alexander Simone and Ryver Bey at Watermark in Asbury Park. In addition to celebrating the new Executive Director, Tom Donovan, the Board of Trustees shared their vision for expansion after more than a decade of Asbury Park-centric operations. Attendees were a tight-knit circle of supporters and prospective new partners from Monmouth County and beyond. NJ Senator Vin Gopal presented a proclamation to Donovan and APMF, The Monmouth County Board of County Commissioners were thanked for their continued support of local nonprofits, and particularly for the Board's decision to distribute American Rescue Plan funds to 93 nonprofits through the COVID-19 Community Recovery Grant Program. Asbury Park Music Foundation was proud to be one of the grantees.
For the first time in its 11-year history, APMF will extend the reach of its youth music education programming outside of the city, starting in Red Bank. Donovan, while new to the executive director role, is a founding member of the organization and well-poised to dive right into achieving this goal.

"The positive impact of our existing programs is undeniable. By putting effort into finding creative new partnerships, there is no reason we can't replicate them elsewhere without detracting from and continuing to grow what we do here in Asbury Park,"  Donovan said. "Since we already do great work with the Boys & Girls Clubs of Monmouth County, our first foray will be with their Red Bank Unit and we'll continue to grow from there." 
APMF provides under-resourced youth with holistic, professional music education so they build confidence and forge healthy relationships as they play, write, record, and promote music. APMF offers opportunities such as music lessons, band performances, advanced technology and classes in production, songwriting and the music business. By procuring equipment and teaching resources for local schools and community organizations and funding opportunities for students to advance their music training at Lakehouse Music Academy (an educational partner of APMF), each year, 300+ eligible students in grades K to 12 receive music education that otherwise would be inaccessible to them.  

The reception at Watermark was the precursor to all that is to come, and Donovan's strategy is simple. "We believe in what we do and it's cost-effective relative to the value offered to the community and its next generation. The challenge now is to make new connections and meet additional  supporters that will commit to help us forge this path."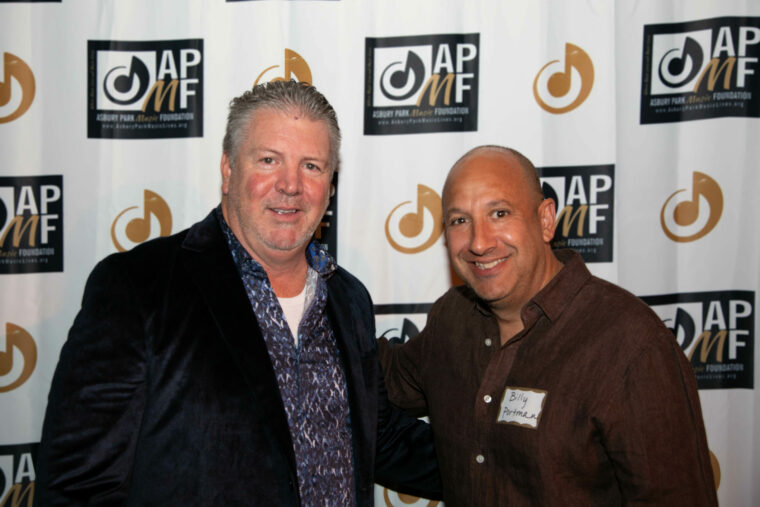 "After our 7th successful summer season of live music events like Music Mondays in Springwood Park and a return to shows on the boardwalk in partnership with Asbury Park LIVE and in Bradley Park with the AP Concert Band, it's important we remind people of our core mission," adds APMF Board Chair Dan Weeden. "We need to invest more in music education now. The return on this investment is a group of well-rounded and active citizens for our town and ideally for all of the surrounding areas of Monmouth County. It also feeds the future local music scene as some of these young people become inspired to choose music as a profession." The program expansion will begin in Red Bank early in 2023.
A volunteer-managed nonprofit organization, APMF depends on foundations and corporate sponsors to support its music education programming and local concerts. Individual donors are at the heart of the organization and can support APMF by donating, volunteering, or purchasing trademark "Music Saved Asbury Park" merchandise.
For more information, visit AsburyParkMusicLives.org or follow APMF @AsburyParkMusicFoundation on Facebook and Instagram.
Cover photo: Monmouth County Commissioner Ross Licitra and APMF Exec Dir Tom Donovan