By Tracey Hall ~
Perched above the shore line on the second floor of the Driftwood Beach Club is the newest culinary delight by Executive Chef, David Burke. A native son, who has roots to these very shores, Burkes eye for detail both in design and menu creation are a treat for the senses.

As you climb the stairs to the second floor, local artwork from Detour Gallery in Red Bank adorns the walls and within the restaurant itself. A private dining room is available for your special occasions where you can enjoy the art, the fireplace or the stunning ocean views.

We enjoyed a glass of wine at the bar, Monica, our bartender could not have been nicer. The nightly riverside sunset splashes golden light into this area creating warmth and beauty.
Soon, Alexander, the assistant general manager, brought us over to the dining room and we were thrilled with the view!

The menu offers so many interesting choices, it was helpful that our server, William, was knowledgeable and able to offer great suggestions. For starters, we opted for the Lobster Dumplings and a show stopper of Maple Bacon on a Clothesline! It really does come on a line, complete with pins and scissors to cut the perfect piece!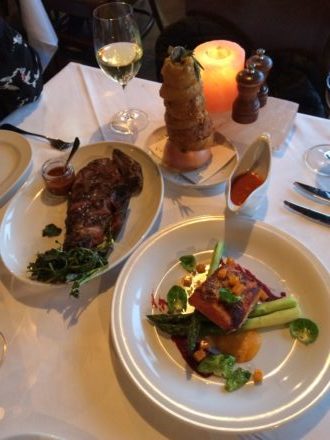 We had to experience one of Chef Burkes salt aged steaks for dinner. The 18 oz Prime Salt Aged Kansas City Sirloin was melt in your mouth delicious! The Ginger and Black Pepper Salmon was also a delight especially with the butternut squash and truffle beet sauce. Not to be outdone, our side of onion rings was literally a tower of rings, battered to perfection and nice and crispy.

Though there was little room for dessert, we soldiered on and ordered a Raspberry Lemon Meringue with key lime and graham cracker crust AND Cake by the Ocean which was molten chocolate topped with salted caramel ice cream.
The Drifthouse will be open all year and you do not need to be a member of the beach club to dine here. Outdoor dining will be available during the summer on the deck and best of all, the kitchen is led by David Burkes brother, Chef Robert Burke.                                      https://drifthousedb.com/